What are Union Challenges in Blackout Rugby?
One popular feature of unions are challenges. Union challenges are tasks that need to be collectively completed by members of a union. Unions gain experience points by completing these challenges. Experience points help the union increase in level which in turn unlock additional union features etc.
The number of experience points (XP) earned varies depending on the difficulty of the challenge that has been completed.
There are three levels of difficulty for challenges:
Difficulty Level 1 – gives 200 XP when completed.
Difficulty Level 2 – gives 500 XP when completed.
Difficulty Level 3 – gives 1000 XP when completed.
Examples of the types of challenges and their XP values are listed below in the Challenge Packs section.
Each union has three slots that can be unlocked for challenges. Each slot can hold one challenge at a time. This means that there can be three different challenges being completed at the same time (once all three slots have been unlocked). The challenges remain until they are completed. These challenges come in challenge packs.
What are the Union Challenge Packs in Blackout Rugby?
A union challenge pack has 10 challenges of varying difficult:
6 challenges worth 200xp,
3 challenges worth 500xp and
1 challenge worth 1000xp
In order to unlock a new challenge pack, the union has to spend one of its upgrade points (obtained by increasing Union level). The President and Executives of the Union are the only members that can unlock union challenges and packs.
Currently there are 6 challenge packs. The Challenge Packs and their contents are listed below:
CHALLENGE PACK 1
Difficulty 1 – 200xp
Purchase 2 players on transfer market
Kick 15 successful league conversions
Make 340 ladder passes
Gain 20 daily reward tokens
Kick 2000 league metres
Win 6 ladder turnovers
Difficulty 2 – 500xp
Promote 2 youth prospects
Score 40 ladder tries
Play 60 friendly matches
Difficulty 3 – 1000xp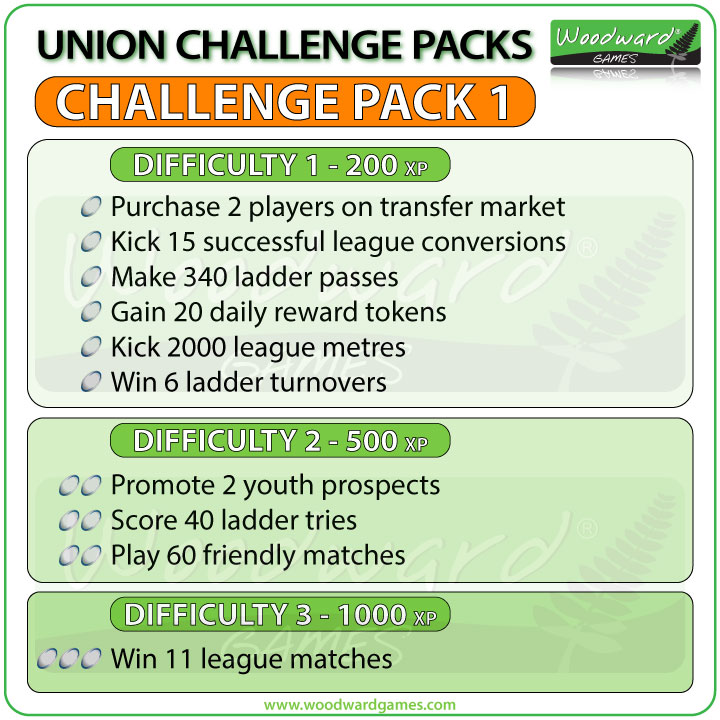 CHALLENGE PACK 2
Difficulty 1 – 200xp
Place 3 transfer market bids
Make 4200 league metres
Make 340 league passes
Win 6 league scrum turnovers
Make 30 ladder clean breaks
Kick 2000 league metres
Difficulty 2 – 500xp
Invest $1,000,000 in academy
Win 14 ladder challenges
Win 10 try bonus points
Difficulty 3 – 1000xp
Gain 60 daily reward tokens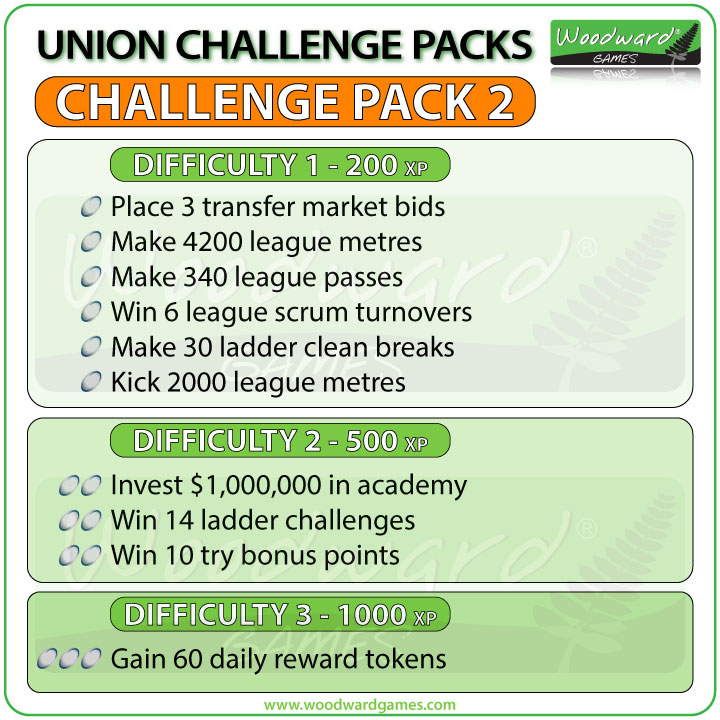 CHALLENGE PACK 3
Difficulty 1 – 200xp
Play 20 friendly matches
Make 4200 ladder metres
Make 30 league clean breaks
Score 5 league penalty kicks
Win 6 ladder scrum turnovers
Kick 2000 ladder metres
Difficulty 2 – 500xp
Purchase 4 players on transfer market
Win 14 ladder challenges
Gain 40 daily rewards tokens
Difficulty 3 – 1000xp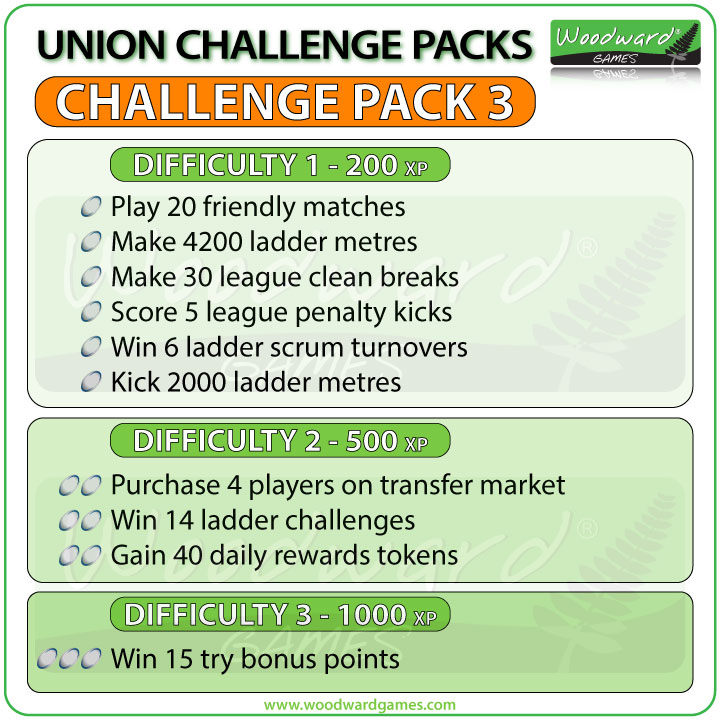 CHALLENGE PACK 4
Difficulty 1 – 200xp
Play 20 epic cards
Score 20 ladder tries
Have 300 league minutes in opposition 22
Kick 15 league good highball kicks
Have 750 ladder carries
Win 5 try bonus points
Difficulty 2 – 500xp
Complete 4 contract negotiations
Kick 30 successful ladder conversations
Win 14 ladder challenges
Difficulty 3 – 1000xp
Invest $1,500,000 in academy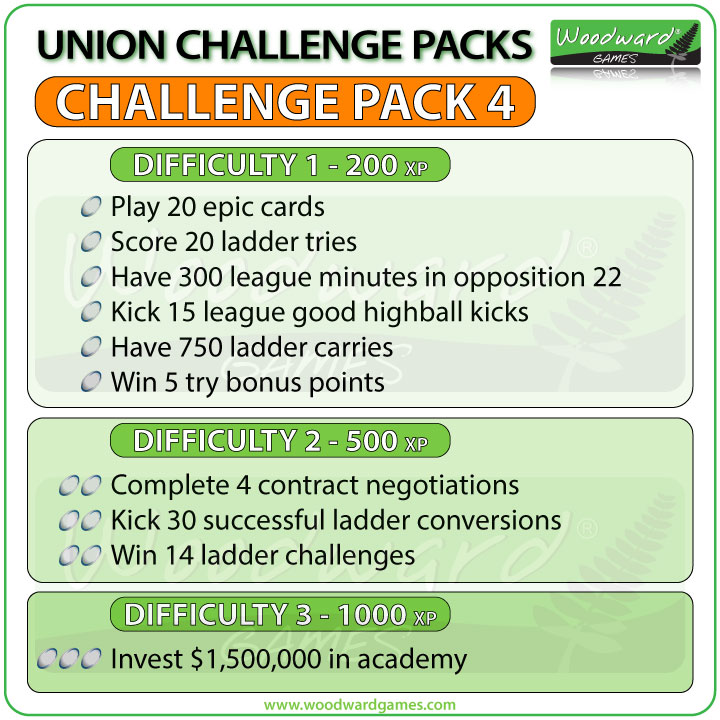 CHALLENGE PACK 5
Difficulty 1 – 200xp
Promote 1 youth prospect
Win 8 league lineouts
Have 440 league minutes in possession
Have 750 league carries
Make 340 ladder passes
Kick 15 ladder good highball kicks
Difficulty 2 – 500xp
Place 3 transfer market bids
Play 40 friendly matches
Score 40 league tries
Difficulty 3 – 1000xp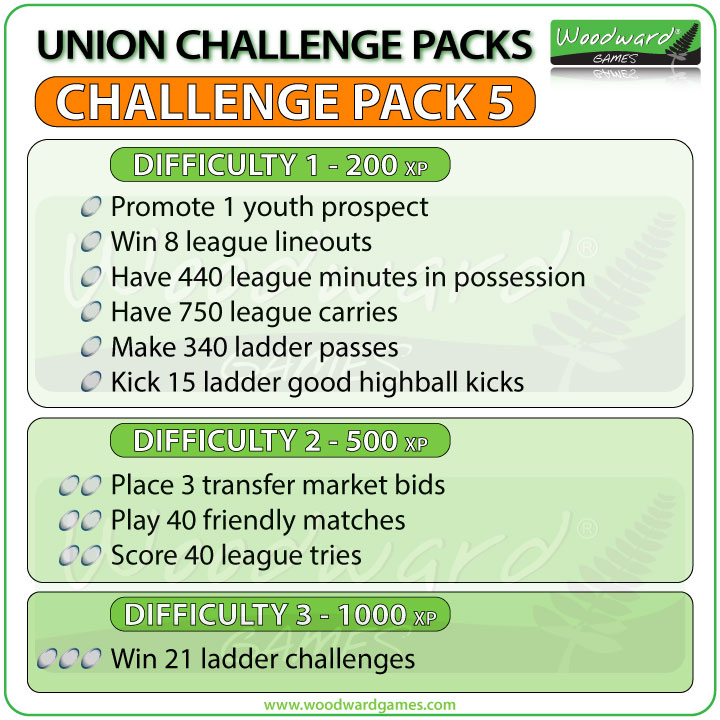 CHALLENGE PACK 6
Difficulty 1 – 200xp
Invest $500,000 in academy
Score 10 league tries
Complete 2 contract negotiations
Have 300 ladder minutes in Opposition 22
Score 4 league drop goals
Win 6 league lineout turnovers
Difficulty 2 – 500xp
Play 40 epic cards
Score 10 ladder penalty kicks
Win 14 ladder challenges
Difficulty 3 – 1000xp