Something I noticed when I recorded a couple of unboxings for YouTube is that the audio sounded terrible. It was distant and with a slight echo or hollow sound. Since I'm a bit of a perfectionist and want my videos to be the best ones possible, I knew I had to invest in some type of microphone.
Since I just use my cellphone to record the videos whenever I appear on screen (in non-gaming videos) I don't have a special video camera or set-up. I didn't want to have a microphone in my hand (does anyone do that on YouTube?) and didn't need one of those fancy microphones pointing at you from the video camera (some are bigger than the actual phone), besides, those can be quite expensive.
When I appeared on live TV in Chile (I'll save that story for another time) we used to be given a small microphone that would clip onto your shirt which would then take the audio down a wire under the shirt and into a little box clipped at the waist. This box would transmit my voice to the mixer where they do whatever they do in the mixing room. This type of microphone, that you commonly see on TV, is called a lavalier microphone.
What is a lavalier microphone?
A lavalier microphone, also known as a lav, lapel mic, clip mic or just lavalier, is a small microphone mainly used for TV and public speaking events. It is a small microphone commonly connected to a small clip that attaches to your collar, tie, or other clothing. What makes them different from normal microphones is that they allow for hands-free operation. The microphone cord is normally hidden under the clothes and then either goes to a radio frequency transmitter or is connected directly to the mixer or recording device.
Which microphone did I get?
I got the Audio-Technica ATR3350iS Omnidirectional Condenser Lavalier Microphone for Smartphones. (That is a mouthful… you can probably tell that I just copy-pasted it from the website as there is no way I'd be able to remember all of that)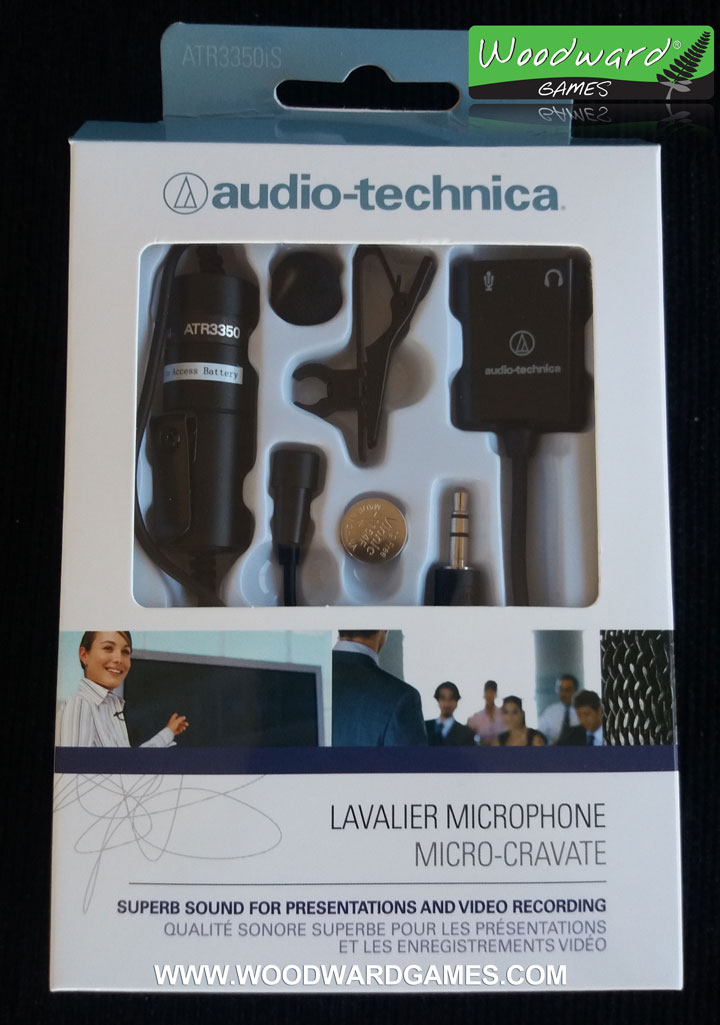 The microphone is quite small which makes it more unnoticeable in your video. It comes with a small foam windscreen which is a little tricky to put on the microphone but stays put once on. The cord that leads to the phone is really long which is great as I don't have the camera that close to me. Having experimented with this microphone already (in my last video about an Assassin's Creed unboxing) I can say the audio now sounds SO MUCH better. The sound is much clearer and you don't get that hollow/distant sound making the video a little more professional.
Just so you know, at first the mic didn't work since I had connected it directly to the phone. Then I noticed it came with a small adapter, which is included, that you need to use. After that, it worked like a dream.
Unboxing and Audio Test
I created the following video so you can hear the difference between NOT using this microphone (sound recorded directly from my phone camera) while I am unboxing it and then I test the new microphone using it to talk about what is on the box. You should be able to hear a noticeable difference in sound quality.
Final Thoughts
Yes, so far so good and I am overly happy with my purchase as this microphone does what it is supposed to do. In fact, I will be getting another one for when I do interviews on my other channel (Woodward English – 100,000+ subscribers). I would recommend this lavalier microphone for those YouTubers who are just starting out and you need something decent at a reasonable price (I got it for NZ$60). The improvement in sound quality will make you sound more professional.